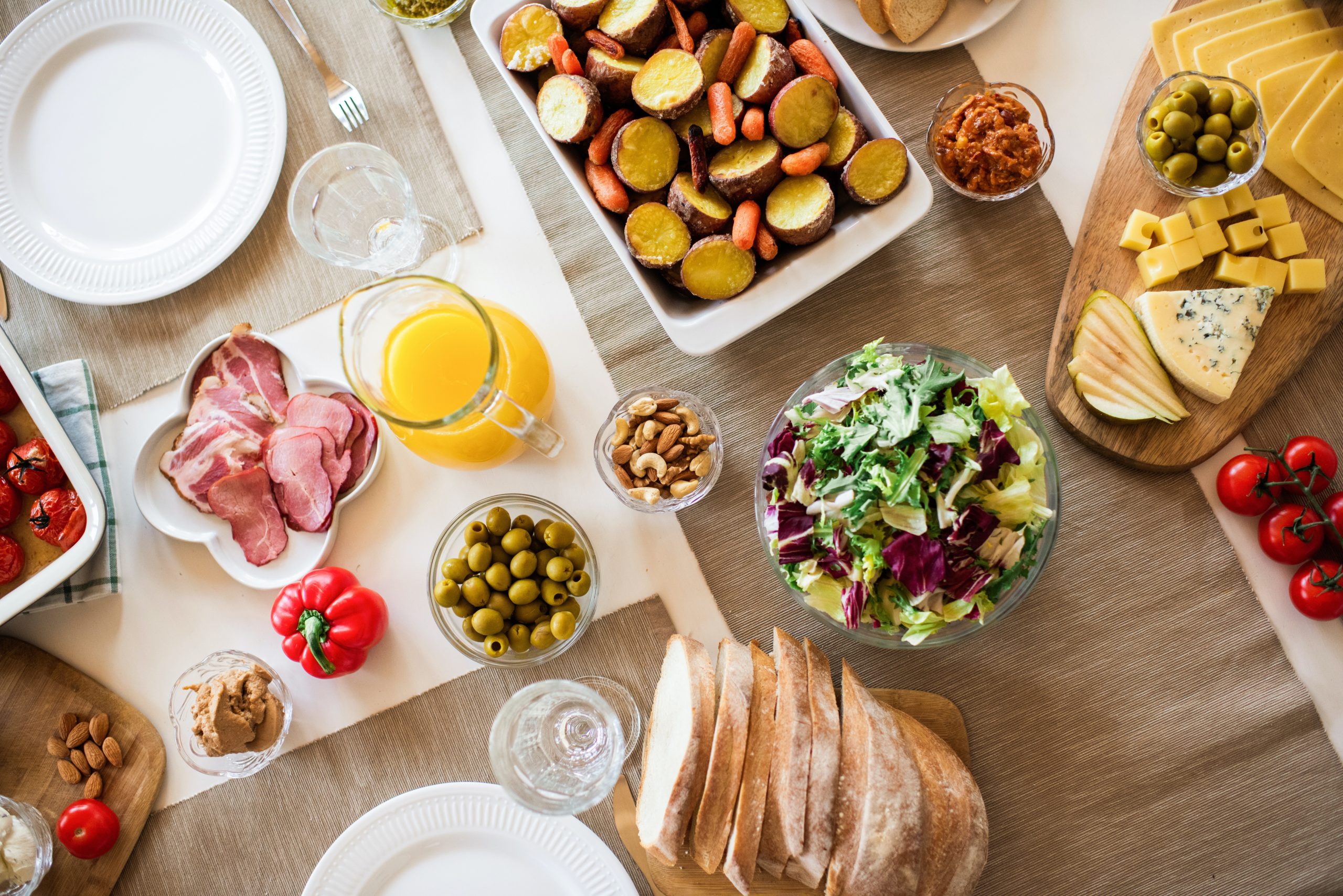 November 22, 2022
Thanksgiving Update: Lettuce Farmers Hard at Work to Prevent Outbreaks
As we prepare for this year's Thanksgiving holiday, lettuce and leafy greens farmers remember well the tremendous impacts of a recall that emptied store shelves of romaine in November 2018.
What farmers want shoppers to know this Thanksgiving is that they've made significant changes in how most of the nation's lettuce is grown in an attempt to continually improve the safety of romaine and other lettuces.
Putting things into perspective, registered dietitian Sally Kuzemchak of Real Mom Nutrition, writes:
Lettuce is one of the most popular vegetables. The leafy greens industry supplies 47.5 billion servings of leafy greens per year. So, the odds of experiencing an illness from leafy greens are actually less than 1 in 150 million, according to stats from this report.
You can read Sally's post here, which is full of excellent facts and information for consumers on how to wash, store, and safely consume lettuce and leafy greens. In her post, Sally mentions the Leafy Greens Marketing Agreement (LGMA) and the regular government audits are conducted to ensure farmers are following a set of food safety practices.
Most people are unaware that a program like the LGMA exists and that it encompasses over 90 percent of the lettuce consumed in the U.S. Likewise, people definitely don't know that farmers are continually making improvements to the safety of lettuce. Each year since the Thanksgiving outbreak associated with romaine lettuce in 2018, the LGMA has made several changes to the food safety practices its members are required to follow.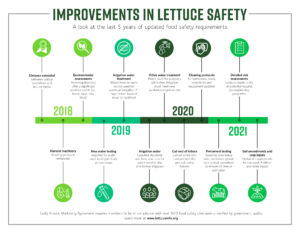 CLICK TIMELINE GRAPHIC TO ENLARGE

The list of changes is long. A timeline of updates to what the lettuce industry refers to as "LGMA metrics" shows how practices required of leafy greens farmers have been strengthened every year since 2018. To name a few, these changes have:
Extended the minimum distance required between animal feeding operations and lettuce farms. In some instances, the distance must now be at least 1 mile.
Added new requirements to improve the safety of water used to irrigate lettuce fields.
For example, water coming from an "open" source like a canal or reservoir must be sanitized before it can be applied to a crop that will soon be harvested.
Enforced new protocols for cleaning and sanitizing harvest machinery.
Made major updates to assure the safety of soil amendments and crop inputs, like compost, that are applied to lettuce fields.
Updated requirements to assess the risks of additional hazards that may be present, notjust on the field where lettuce is grown, but also on land next to lettuce fields.
Additionally, many farmers are now conducting "pre-harvest testing" in which samples oflettuce are collected from throughout the field and tested to ensure it's free of pathogens before it's harvested.
These efforts demonstrate the commitment of lettuce and leafy greens farmers to preventing foodborne illness outbreaks. Farmers are continually working to prevent heartbreaking illnesses and financial losses that come with an outbreak.
Unfortunately, all too often the exact cause of a foodborne illness outbreak is never really known. This is why the LGMA and its members are looking closely at all aspects of farming and are working to strengthen food safety practices throughout their operations. A list of the companies that are members of the LGMA can be found here.
For more information about the LGMA, please visit www.lettuceinfo.org.